NT 75/2 Ap Wet and Dry Vacuum Cleaner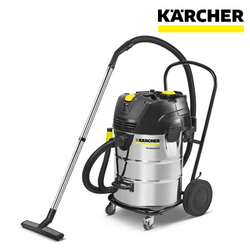 NT 75/2 Ap Wet and Dry Vacuum Cleaner
Product Description
Product Details:
| | |
| --- | --- |
| Brand | Karcher |
| Air flow rate (l/s) | 2 x 74 |
| Voltage (V) | 220 - 240 |
| Weight (kg) | 26.5 |
| Dimensions(LxWxH)(mm) | 700 x 505 x 995 |
| Vacuum (mbar/kPa) | 254 / 25.4 |
| Container capacity (l) | 75 |
| Max. rated input power (W) | max. 2760 |
| Standard nominal width | 40 |
| Sound pressure level (dB(A)) | 73 |
| Container material | stainless steel |
| Number of current phases (Ph) | 1 |
| Frequency (Hz) | 50 - 60 |
Equipment:
Suction hose, 4 m
Suction tube, metal 2 x 0.5 m
Filter bag, Paper
Wet and dry floor nozzle, 360 mm
Crevice nozzle
Drain hose (oil-resistant)
Automatic switch-off at max. filling quantity
Eco filter system
Stainless steel container
Flat pleated filter, Paper
Tilting chassis
Bend
Filter cleaning, ApClean (semi-automatic filter cleaning system)
Sturdy bumper
Push handle
Protection class, II
Steering roller stop
Maintenance-free suction turbines, 2 piece(s)
Features And Benefits:
Onboard storage:
The large onboard storage space on the casing head ensures that tools and accessories are always stored and close at hand.
Integrated drain hose:
Easily accessible drain hose for convenient liquid disposal.
ApClean (semi-automatic filter cleaning system):
The free filter means that the user can work for long intervals without interruption. Optimal suction power with high efficiency.
Hose and bend attachment:
Convenient suction hose and bend attachment for easy transport and storage
Item Code:
The NT 75/2 Ap Me Tc is a high-performance wet/dry vacuum cleaner with the ApClean system for constantly high cleaning power and uninterrupted use. The robust 75-litre tank is ideal for large dirt volumes and is easy to empty thanks to the tilting chassis. This vacuum cleaner has a compact turbine casing with integrated filter cover for easy removal of the large flat pleated filter. Effective semi-automatic ApClean filter cleaning provides constantly high cleaning power, uninterrupted use, and long filter life. The NT 75/2 Ap Me Tc also features electronic fill level monitoring This ensures that the maximum allowable fill volume is not exceeded with wet vacuuming. Vacuumed liquids can be easily be emptied via an oil-resistant drain hose. Accessories can be attached to the vacuum cleaner quickly and easily using the practical clip system. The device has a hose storage compartment, an accessory compartment and a large storage area (e. g. for tools). Two large trestle wheels and two steering rollers give the NT 75/2 Ap Me Tc good mobility.