Inclinometer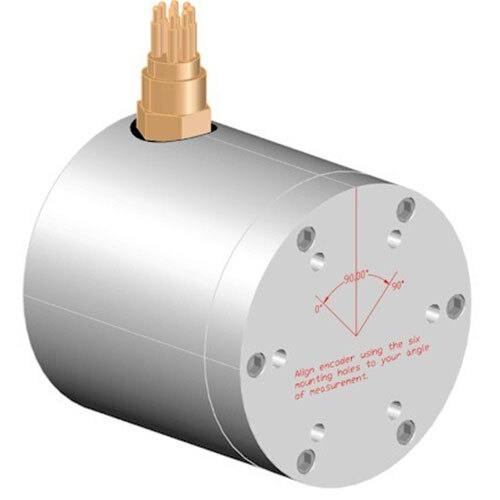 Inclinometer
Product Description
Series M (INC-00X) Inclinometer (Ex d)
---
M
E
K
0
-
3
6
X
X
-
X
X
X
X

|

Shaft

Output

|

|

Inclination Angle

|
|

|

|
0060 = +/-60 degrees
|
|
36 = Inclinometer
|
other inclination angles
|
|
|

available, please ask

|
Shaft Size
|
Exit
|
K0 = No Shaft
|
A = Axial
|
|
R = Radial
Protection

|

E = IP66/67 Stainless Steel
Connection
1 = 2m cable
3 = 10m cable
5 = 20m cable

Zone 1, Class 2 Div 1
---
Technical Data
Connection Options
Operating temp:
- 20 ...+ 60 degrees C
Cable
- 4 ...+ 140 degrees F
PS GND
Black
Max frequency:
150 kHz
PS 5 ... 24 V
Red
Current consumption:
80 mA (max.)
Output Axis X
White
Power supply:
5...24V
Output Axis Y
Blue
Weight:
2.5Kg
Zero Teach
Yellow
Protection:
IP 66/67
Housing:
S. Steel
Output
Humidity:
Up to 98% permissible
Axis X
- 60o = 4mA and +60o = 20mA
Shock:
10g (6msec)
Axis Y
- 60o = 4mA and +60o = 20mA
Vibration:
5g (500 Hz)
---
Certifications
Does not require a barrier for use in hazardous areas, it is Flameproof, making the barrier redundant.
IP 66/X7
Ex d IIC
ATEX [Certificate]
IECEx [Certificate]
CSA [Certificate]
GOST-CU [Certificate]
Mounting Instructions
Hook up the inclinometer with the connections as described. Make sure power supply meets specifications. Attach unit to machine or device and use the arrows indicating inclination as reference as to which axis the measurements take place.
Orientation of axis as standard is as follows:
X axis is 'AXIAL' and Y axis is 'RADIAL'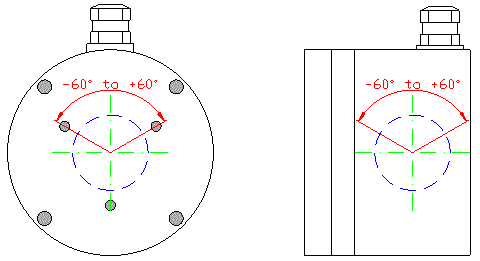 Dimensions
Contact Us
504, Ghanshyam Enclave, Lalji Pada, Kandivali Link Road, Kandivali (West), Mumbai, Maharashtra, 400067, India
Phone :+918037304378